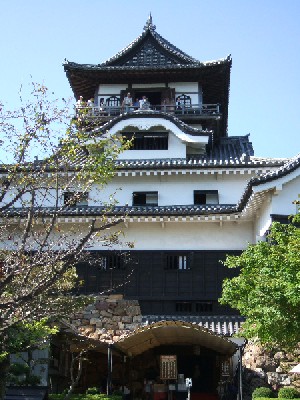 Inuyama castle was built in 1537 by Oda Nobuyasu, an uncle of Oda Nobunaga.
Nobunaga is one of Japanese greatest samurai who attempted to unify the nation in Japan during the period of the wartime in the 16th centruy.

The lordship of the castle was taken turns several times and in the early 17th century it was finally bestowed on Naruse Masanari.
Since then this castle had been owned by Naruse family and it is noteworthy that it was the only privately owned castle in Japan.

However in 2004, Naruse family established a foundation and decided to maintain the castle under the new foundation with Inuyama city.

Inuyama castle is the oldest donjon remaining original style.
It was designated as a national treasure in 1935. There are only 12 original castles in Japan and four of them are designated as a national treasure, Himeji, Hikone,Matsumoto and Inuyama.

What's the criterea for national treasure?
Among the national important cultural properties, the Ministry of culture and education designate under the following 3 criterea.
1. Excellent work in construction or production.
2. Enormous significance in history
3. Achademic high-value.

Stone Wall

The stone wall of the castle is 5-meter height.
It is the oldest method to pile up raw and natural stones, which is called "Nozurazumi" in Japanese.
As time passed, the construction method became more precise. You can recognize when was the castle built by the method of the stone wall.















View of Kiso river from the top of the castle.

Kiso river played a significant role at that time.
Kiso timbers were very popular and transported through the river shipped to Nagoya port and other places.

The lord of the castle imposed tax on every boarts that went through the river to bring the castle town prosperous.



Information

Inuyama castle
Open Hour : 9:00am to 5:00pm
Entrance Fee: 500 yen (including Artifacts Museum and Karakuri Exhibition)
Closed: 29th Dec to 31st Dec
How to get: 15 mins walk from Inuyama station (Meitetsu line) about 30 mins from Nagoya station.

Rieko Muroya
Volunteer guide in Inuayama castle
for more information
e-mail: mun_rieko@hotmail.com
Click Here for Reservation




---